What nutritional solutions exist for dysphagia?
Clinical Nutrition
Dysphagia is a common disorder of swallowing that, according to certain studies, can affect up to 15% of the population[1]. Often underestimated and misunderstood by the general public[2], it can lead to complications such as food going down "the wrong way", fear of eating, malnutrition and dehydration. This is why nutritional solutions for dysphagia offer a first line of defence against malnutrition.
What is dysphagia? 
Swallowing disorders
Dysphagia or swallowing disorder is characterised by a sensation of blockage when consuming food or drink. Specifically, there are two types of this disorder. Difficulty can be experienced when swallowing begins and food is moved into the oesophagus, which is known as oropharyngeal dysphagia. Then there is oesophageal dysphagia, in which problems occur when food is being propelled towards the stomach. 
What causes dysphagia?
Ear, nose and throat (ENT)[1] diseases, such as pharyngitis or sore throat, may cause dysphagia. Sometimes the causes of this obstruction are mechanical, linked to abscesses, tumours, neuromotor diseases or hypertrophy of the thyroid gland. 
It is important to understand that dysphagia is not a disease per se, but a symptom or consequence of a variety of conditions. Different studies have shown that dysphagia affects 40-70% of patients following a stroke, 60-80% of people with neurodegenerative disease, 60-75% of patients after radiation therapy on the head and neck areas, and more than 50% of people aged 65 years old or more[4;5]. 
Common complications
Food and drink going down "the wrong way" is one of the complications of dysphagia. This stresses the airways and, in the most serious cases, can cause fatal choking[3]. 
Malnutrition and dehydration are nutritional complications of dysphagia. Fear of pain or swallowing "the wrong way" can be obstacles to the enjoyment of a varied diet. Malnourished people are weaker and, paradoxically, have less appetite. These swallowing disorders make eating difficult. This is why it is essential to support patients and offer them suitable products.
Nutritional solutions for dysphagia offer a first line of defence against malnutrition and dehydration.
Different products adapted to help patients
Are you familiar with the IDDSI scale?
The International Dysphagia Diet Standardisation Initiative (IDDSI)[7] scale is an international standardisation of liquid and solid consistencies. It was developed through the combined work of numerous healthcare professionals around the world. The aim of the working group was to obtain a common terminology to facilitate patient follow-up and limit errors[7]. 
The IDDSI scale represents 8 levels of texture measured from 0 to 4 for beverages and from 3 to 7 for foods.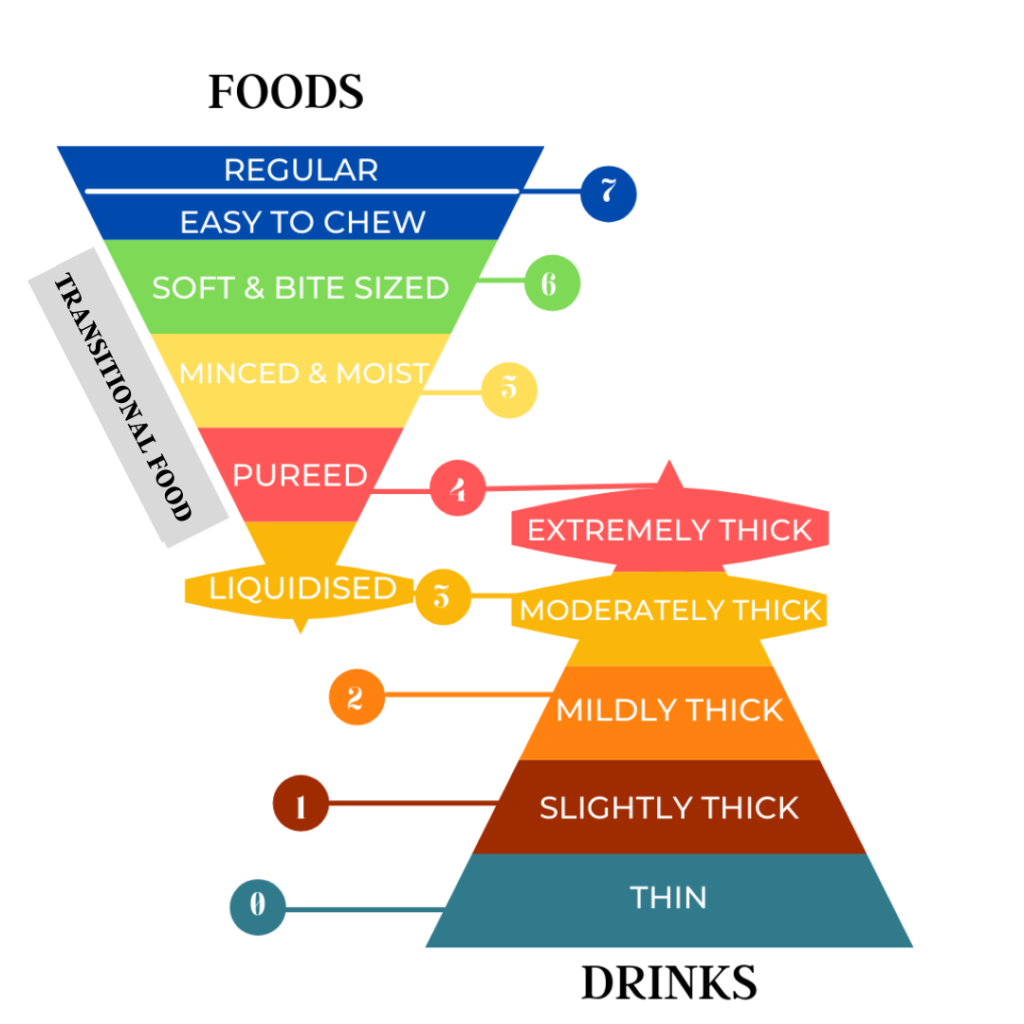 To better determine what level a food or drink corresponds to, the IDDSI has introduced analytical methods (flow test, drip test, texture measurement, etc.) in which the conditions for carrying out the tests are detailed (temperature, tools).
Clinical nutrition solutions with specific textures
One option for patients with dysphagia is to adapt the texture of their food and drink to promote food intake. To do this, thickening and gelling powders are available to adapt texture according to the IDDSI scale, from liquid to semi-liquid, by varying the dosage. 
There are also other finished products such as water gels. Their textures are adjusted to prevent food and drink going down "the wrong way". 
When dysphagia and malnutrition are linked
If the patient is dysphagic and malnourished or at risk of malnutrition, oral nutritional supplements (ONS) may be included, provided that their texture is suitable for swallowing disorders. This avoids having to resort to enteral nutrition and the risk of malnutrition.[6] 
To support patients with dysphagia, manufacturers of oral clinical nutrition are increasingly investing in the development of foods that are both tasty and tailored to IDDSI requirements. This offer covers a variety of formats and recipes: products such as creams, yoghurts, powders, water gels, drinks, etc.   
For more information on our range of products suitable for dysphagia, please contact us at info@lns-privatelabel.com. 
SOURCES:
[1] https://www.snfge.org/content/dysphagie
[2] Dysphagie Global Guidelines & Cascades, septembre 2014 – World Gastroenterology Organisation 
[3] Dysphagie, 2017 – Société Nationale Française de Gastro-Entérologie
[4] Turley R, Cohen S. Impact of voice and swallowing problems in the elderly. Otolaryngol Head Neck Surg 2009;140:33–6.
[5] Lin LC, Wu SC, Chen HS, Wang TG, Chen MY. Prevalence of impaired swallowing in institutionalized older people in Taiwan. J Am Geriatr Soc 2002;50:1118–23.
[6] La complémentation nutritionnelle orale (CNO), décembre 2020 – Assurance Maladie
[7] Le cadre IDDSI, juillet 2019 – International Dysphagie Diet Standardisation Initiative
[8] https://www.chudequebec.ca/getmedia/91ff2760-407d-48c2-b3bd-e4e362ea15d2/823_04_030_Les_difficultes_d_alimentation_en_contexte_de_maladies_neuro.aspx
Back to the list